MEHGAN HEANEY-GRIER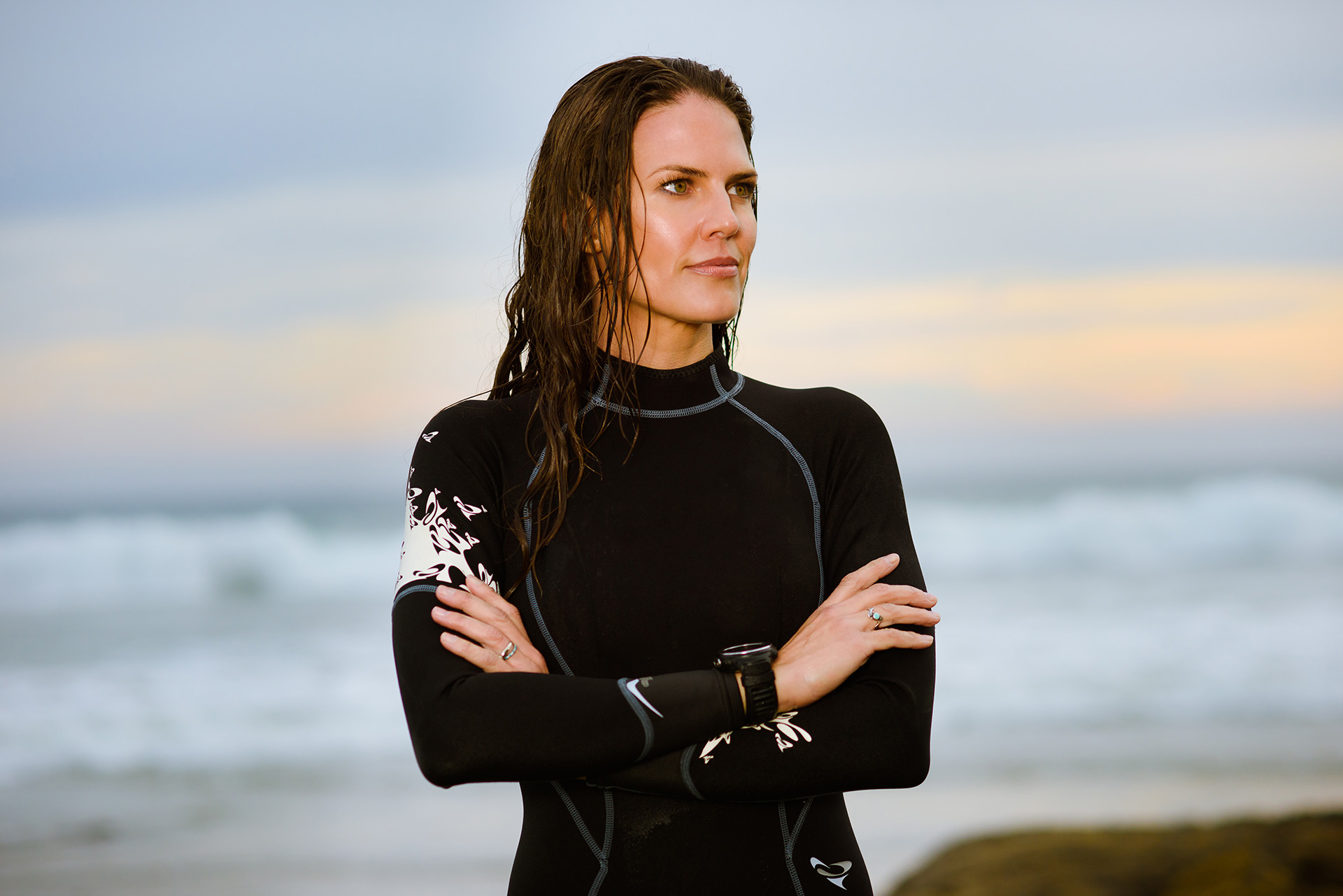 OCEAN EXPLORER MEHGAN HEANEY-GRIER
THE WATERS OF SOUTH FLORIDA are no strangers to hosting the mighty bodies of alligators and sharks along with venomous snakes like the Water Moccasin. Humans too are not uncommon in these waters but none quite like Mehgan Heaney-Grier. Diving to incredible ocean depths and swimming with nature's largest and most dangerous predators is not an unusual day for her though, she didn't start out as a fearless ocean adventurer.
Born in Duluth, Minnesota on the shores of Lake Superior, Mehgan was 5 years old before she ever saw the ocean with her own two eyes. A family vacation to Jamaica gave her the first introduction.
"Although I was drawn to the ocean I didn't go in it very often on that trip. I was kind of scared of it. For some reason, around that age I developed a fear of the water."
A few years later it was in Hawaii when she was 8 and went snorkeling for the first time that the underwater world revealed itself to her. The ocean was crystal clear that day and she saw sea turtles, puffer fish and sea urchins. Once her heart attached to the sea, it became a bond of a lifetime.
At 11 years old, her newly conceived dream of living near the ocean came true. Mehgan, her mother, and her sister relocated to the Florida Keys to live with her new stepfather, Nelson. This move served as a pivotal moment in Mehgan's life. It provided experiences that sparked a sense of adventure and exploration, and curated in her deep connection to the ocean and desire to protect it.
"My mom was on a girl's trip with her best friend, from Duluth, MN to Cancun, Mexico. While there, someone recommended they take a day trip to Isla Mujeres, this little Island off the coast. It was a super random place back then, not a tourist destination at all."
"My stepdad, who was this handsome, salty sea dog, had sailed over there with a bunch of his buddies and they were living in a sailboat anchored out in the harbor. That day when they were visiting the island, he strolled up to them on the beach and introduced himself. The rest is history! He and my mom started dating long distance for about 3 years, then got married, and we packed up and moved down to where he was living in the Florida Keys. That chance meeting on the beach, on a little island changed so much for all of us."
Life in the Florida Keys became a vast contrast from Minnesota. At first the new family of four lived in a 15 foot by 20 foot shed because their home was in the early stages of being built. Nelson was a builder and the family got recruited to help build their new home. Chores for the girls included things like helping laying tile and installing cabinets. Once chores and homework were completed, going for a swim or snorkeling was a common way to conclude the day.
Working on a home wasn't a completely foreign subject for Mehgan, nor was being entrepreneurial. When living in Minnesota, Mehgan's mom, a single mother of two and working two jobs at the time, would regularly spend her evenings remodeling the house they lived in, and then would sell it for a profit.
During summers in the Keys, spontaneous family sailing trips to Cuba, the Bahamas, and Marquesas Islands were a regular occurrence. Despite money being tight, the family lived a rich life of experiences. Spending time in the great outdoors together created a healthy foundation for Mehgan and her sister to grow up with a sense for travel and adventure.
At age 14, with Mehgan's natural beauty and athleticism, she was recruited by a modeling agency in Miami Beach. Her mother supported her newfound ambition in modeling, and thought it would help to keep her out of trouble, focused and working hard during her teen years. Also supporting this strategy was the three-hour drive back and forth to Miami, where Mehgan often had to go for photo shoots, casting calls, and booked jobs.
These weekend excursions served as a girls' bonding weekend for Mehgan, her mom and sister who often joined on the trip. Modeling led her to being featured in numerous catalogs and publications including Self, Vogue and W Magazine. Despite the busy schedule as a model, she never deviated from her love for the ocean and adventure.
At 17, Mehgan graduated high school and began spending the majority of her time on the water. That summer she started spearfishing and encountering sharks with Mark Rackley, her boyfriend at the time, and their friend Manny Puig. Mark, who was just beginning his career as an underwater cameraman, had recently started documenting Manny's unique animal handling skills with sharks and alligators. Mehgan, with her fearless nature and up-for-anything adventurous spirit, perfectly rounded out the team.
"We really took up our water explorations full time at that point, and our "regular jobs" of modeling and commercial spearfishing got placed on hold - so we could dedicate more time to our adventures in and underwater. We filmed it all, from animal encounters, swamp diving, freedive training - all of it!" The footage they produced later led to the Animal Planet series Extreme Contact.
As the team pushed the limits and explored new depths, Mehgan showed an exceptional talent for freediving. Temporarily putting their animal encounters on hold, Mehgan decided to start freedive training. With no record yet in place, she set her sights on establishing the first-ever, constant-weight freedive record for both men and women in the USA. After six months of training, on October 21, 1996 she did just that with a dive to 155 ft on one breath of air. Less than a year later, she broke her own record with a 165 ft dive.
"This whole time in my life was such wild ride. I was a kid and just doing it for the fun and excitement. It was such freedom just following my gut, being true to my passion for the ocean, and exploring the unknown, especially when it came to my own limits."
"I've always been very driven by the personal challenge, and gravitate to the edge of my comfort zone. It's all been an exploratory process into uncharted territory. The more I learned the more calculated I could be, but starting out I truly had no idea what the outcome would be. On the day of my first record attempt, I had never even gone that deep before. I was the definition of winging it back then."
In 1998, she was asked by world champion freediver, Umberto Pelizzari, to assemble the first- ever USA Freedive team to participate in the Freediving World Cup in Sardinia, Italy. She obliged, and captained the five man team. Then, in 2000, for her accomplishments in freediving, Mehgan was inducted in the inaugural class of Women Diver's Hall of Fame.
The progression of Mehgan's career transformed quickly after her first record. She owned a unique corner of the market because of her already established modeling career and got hired for a vast array of aquatic jobs. Underwater photo shoots, commercials, and TV roles were be-coming became familiar territory for Mehgan. Magazines like Outside, Life, and People featured Mehgan's story, her animal encounters and unique water work.
Through commercial work and freediving Mehgan befriended fellow diver, Peter Zuccarini. Pete, who is now one of the most sought after Underwater Directors of Photography in Hollywood, was just at the beginning of his career. In 2003, Pete had started work on a film called Pirates of the Caribbean: Curse of the Black Pearl. The job involved difficult underwater stunts for the film's main actress, Keira Knightley. Mehgan got called in for the job. Since then, Mehgan's been stunt double for many of Hollywood's elite actresses including, Jessica Alba and Ashley Scott in, Into the Blue and Olivia Wilde in, Turistas.
Of Mehgan's list of impressive skills, one of the lesser known is carpentry. In 2005, a series of hurricanes hit the Florida Keys and left her ground level home and other structures on her property flooded. Everything from the electric to the drywall had to be gutted. 28-year-old Mehgan decided to take on the project herself.
"I took two years working on my place, taking it apart and putting it back together. It was kind of therapeutic in a way. I gutted everything and made it my own. Got my own arsenal of tools and learned the necessary carpentry, plumbing and some electric on the fly. Electrical is a lot more scary for me but I love plumbing, it's like a puzzle."
The day after her 30th birthday, Mehgan began her undergraduate studies at the University of Colorado. She double majored in Ecology and Evolutionary Biology, and Anthropology. In 2011 Mehgan graduated with the highest honors of Summa Cum Laude for her honors thesis on shark behavior in the Bahamas.
"I was a non-traditional student and true to my nature, I set the bar high for myself. So school was no different in that way. I'm super proud of that accomplishment."
Her double major turned out to be a worthwhile investment in many ways. In 2015, Mehgan was hired onto an elite team of explorers for the Discovery Channel series, Treasure Quest: Snake Island. Working as Divemaster and Anthropologist, her and the team had two successful expeditions in search of lost Incan gold in the waters of South America.
Mehgan's work as a Marine Educator, Expedition Leader and Series Host allows her to combine her passion for marine science, conservation and working with youth. Currently, Mehgan is an Executive Producer, on camera host and mentor for the scholarship students on the documentary web series, A Rising Tide. The series follows eight Colorado based students on their journey through an introduction to marine science, earning their open water scuba certification and embarking on their first ocean adventure. Mehgan shares her passion and skills with these kids in raising awareness for ocean conservation.
"I take great pride in my work in marine education and conservation. It's a life-long passion. I especially love working with kids, and getting to see that spark the first time they get inspired by the ocean, to do more and to make a positive impact on the world around them."
In 2010, Mehgan married long-time boyfriend, Silas Binkley, an outdoor program director and Colorado native. Of all the jobs, skills, and achievements Mehgan has under her belt, becoming a mother to their son, Cash tops her proudest and most adventurous accomplishments. Inheriting a similar adventurous spirit to his parents, the now five-year-old is always eager to join in on both land and sea adventures - forever asking for just one more "nature story, with diving animals".
Today, Mehgan splits her time between where she lives outside Boulder, Colorado, and her family's home in the Florida Keys. The Colorado wilderness provides ample adventure in the form of hiking, camping and backpacking in the mountains. While, the Florida Keys continue to satisfy her ocean exploration cravings. Being able to share both types of nature with her family is a dream fulfilled.
Mehgan's achievements, multifaceted career, and consistent work in the public eye have made her a role model to young women around the world. From modeling to freediving, carpentry to anthropology, working with sharks or dodging venomous snakes while unearthing lost treasure, Mehgan gracefully pushes the boundaries of social norms. Her unconventional life is undoubtedly a byproduct of living true to her heart. With Mehgan's determined and ambitious spirit, she continues to have a positive impact on the world around her, and we are definitely looking forward to her next adventure.
Photo Credits
Westsuit & Bikini with Dive Fins Photos - Kefski Photographer
Record Free Dive Photos - Jim Edds & The Florida Keys, Key West
Airplane Photo- Clay Wisman Photographer