JEANETTE-ORTIZ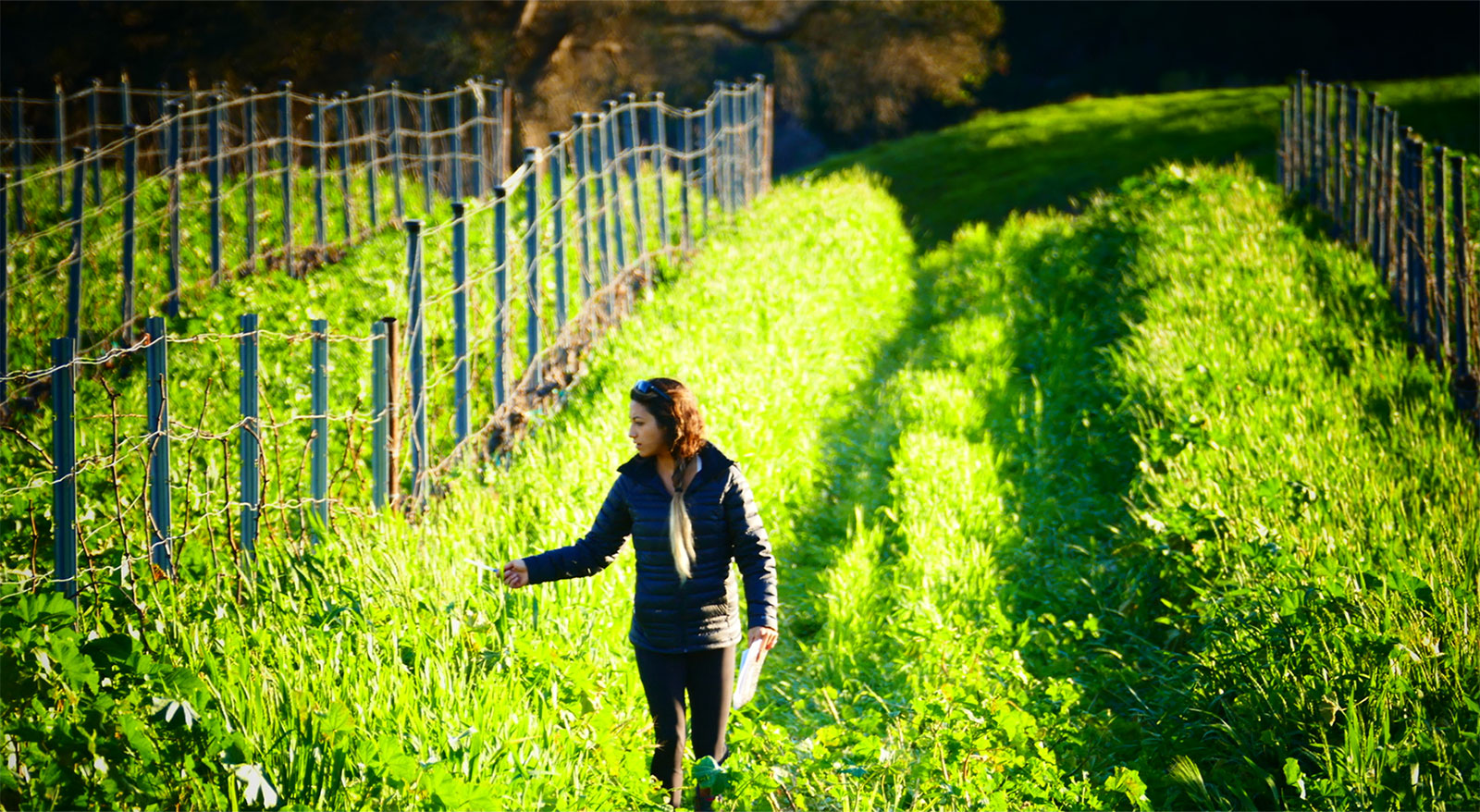 JEANETTE ORTIZ IS A WINEMAKER. Enologist, technically, as spelled out on her Sea Smoke Estate Vineyards business card. Her title is defined as one who is an expert on the chemistry behind how wine is made. But you quickly get the feeling that a oneword description won't suffice for this California girl who doesn't seem to be afraid of much.
At work, she's part chemist, part farmer, part mechanic, part floor cleaner. In her free time, add part surfer. In her past life, tack on part martial arts champion. And all of that together encourages people to assume she's stubborn and strongwilled.
Correctly, she might add. "I get 'sassy' a lot.
"People think I'm really independent, well-traveled. Someone the other day called me brave. I think that's from doing stuff alone. I'm not your typical girl in a lot of ways."
That, too, is evident.
Jeanette grew up in Ventura, the only child of Marie and Andru, two students from California State University Maritime Academy who shipped out to sea six months of the year, working on container ships or oil tankers.
"My mom was one of maybe three women in the entire field. She was one of the first. It was such a man's job, and that was back in the 1980's. She's super independent and athletic and strong. And my father is the same way."
Even when their feet were planted firmly on land, their family was never far from water. Jeanette recalls family outings getting pummeled by waves in some of her first attempts at surfing.
"Just makes you tough," she adds.
She may not have known it as a child, but that tenacity came in handy years later when she "just kinda fell into" the art, not to mention the male-dominated industry, of winemaking. A recent study showed that just 10% of California's winemakers—where nearly 90% of the U.S.'s wine is produced—were female.
At age 20, as a student at California Polytechnic State University in San Luis Obispo, Jeanette decided on a major of wine and viticulture with a focus on enology, and took her first job in the industry, helping out with harvest at a winery in Paso Robles.
"And I've been doing harvest every year since."
She explains that wineries work on an annual cycle, and she offered a very basic outline of the process. Beginning in July, the crew at Sea Smoke will harvest grapes from the vineyard. Jeanette is part of the small team responsible for tasting them, testing them in the lab for their sugar and acidity content, and helping to decide when they should be picked.
Once they're off the vine, the grapes are chilled in a cool room. Eventually the crew hand-picks through them, sorting out any debris or stems. The grapes' next stop is a giant stainless-steel fermenter. Fermentation, with the help of yeast, takes around two weeks to complete.
"There's a hundred things we can do to refine it. But our whole winery's philosophy is hands-off as much as we can. We're very much into non-manipulation."
The wine's last stop is French oak barrels, where it will sit for 18 months at particular temperature and humidity. Sea Smoke's 2016 pinot noirs are being bottled now.
Jeanette spells this out to illustrate how long, how complicated – and at times, how physical – the process of winemaking can be. She's expected to be able to handle all of it, to 'man up,' she says, then wonders why she chose to use that phrase.
"If you want people to treat you as an equal, you have to act like it."
"I'm not scared of doing mechanical things or doing dirty jobs. You get super dirty at harvest. I mean, my hands were black for three weeks after one harvest. You're constantly dirty and sweaty and you have to be strong enough to keep up with the guys in the cellar."
It's the guys in the cellar – and everywhere else – Jeanette looks forward to proving wrong. She knows some women are offended at being underestimated; she prefers to consider it an opportunity.
Take the fork lift incident.
"So I had to go rent a forklift," she starts, and laughs, as if to say stop me if you've heard this one before.
"We needed to upright these two massive stainless steel tanks that were delivered on their side, so I needed this full crane system with chains. I'm asking for straps. And these three cowboy-types are looking at me, and one of them said, 'Who's coming to pick it up?' And I go, 'I'm just gonna drive it out of here,'" she remembers. "They were just looking at me, but I had a great time with it. And I could tell you stories like that for days."
Perhaps those three cowboy-types understand the force that is Jeannette because they've been witness to it, but she isn't quick to offer how far that moxy really goes. We're half an hour into a conversation before she casually mentions that she was a competitive martial artist.
Oh, in grade school?
"I was training for the Olympics," she says, as nonchalant as if I'd asked if she knew what time it was. "I'm a six-time state champion. Then you go international, then you qualify. That's kind of what I was doing when I left."
Jeanette goes on to note that she left competitive martial arts as a second degree black belt, and wishes now she had gone to the Olympics, "for the hell of it," but wasn't interested in becoming pro. College was calling. Travel was calling. Wine was calling. And she was able to answer all three in one stint in Spain.
After graduating from Cal Poly in 2012, and helping out with harvest at a handful of Central Coast wineries for the next few years, Jeanette headed to Spain for an accelerated masters degree program in Tarragona, about an hour south of Barcelona.
"Being an only child, you have to go. You can't wait for anybody. I don't need anybody to go with. I like being alone. That's very grounding for me."
It was while Jeanette was in Spain that she decided to reach out to Sea Smoke, a winery at which she'd always wanted to work, enthralled with what she calls the "mysticism" of the brand. She interviewed while she was in Spain, and within a week of coming back stateside, she had the job she holds now.
To this day, thanks to her time in the fields of Spain, Spanish wine has a close place in her heart. But Jeanette is a huge fan of wine from the Central Coast – the wine she's helping to produce – which may not get the same attention as Napa and Sonoma, its neighbors to the north.
"I love Santa Barbara wine. There's a lot of really, really amazing wine coming out of here. And it's still kind of under the radar."
But Jeanette herself might not be, for too much longer. She has set her sights on starting her own wine label, perhaps as early as this year. A side project in addition to her work at Sea Smoke, beginning her own label would entail sourcing grapes on her own and processing them herself. Not that it would be a source of intimidation; she's already thought of what she might call it.
"My middle name is Iolana, which is Hawaiian for 'to soar like a hawk,' I have always loved hawks and raptors. I was thinking something along those lines."
And when she's not planning to soar, you'll find Jeanette in the one place she can't escape for long: the sea. Perhaps she's taking a cue from her sailor parents. Surfing, she says unequivocally, is essential to her well-being.
"I absolutely need that. I dedicate my free time to it. All of my disposable income goes straight to it."
Someday, Jeanette would like to combine her loves once again; she has high hopes of landing a job of being a traveling wine consultant, which would enable her to float from the Northern Hemisphere to the Southern Hemisphere, helping out with harvest, sipping wine and catching waves and enjoying a particular type of independence that comes only from true confidence. Somehow, you know she'll get there.
"I have always known what I want. That has never been an issue for me."