CINDY PINZON & LEONE POSOD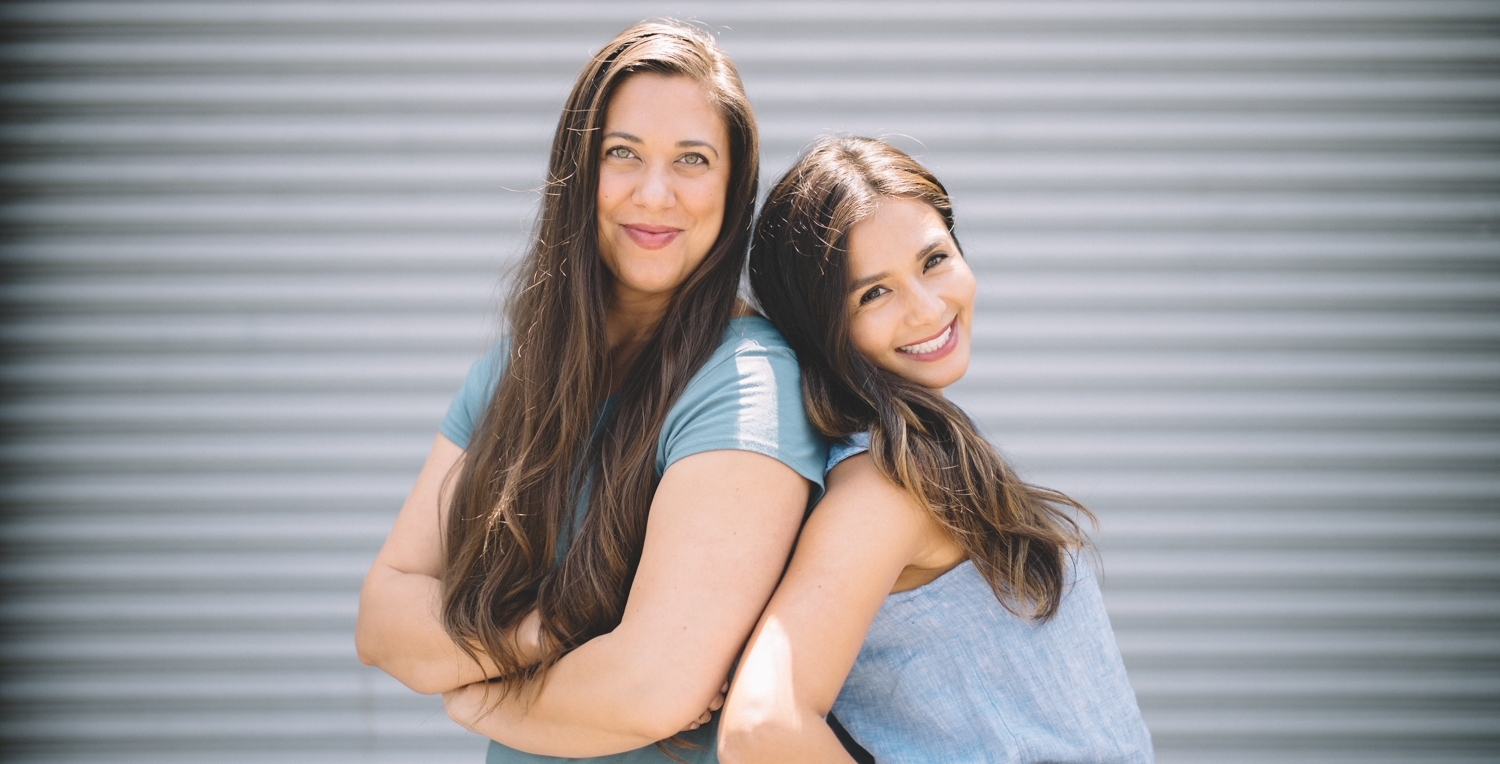 CANNABIS ENTREPRENEURS CINDY PINZON & LEONE POSOD
"We are women who create healthy cannabis-infused products with women in mind. We value self care and strive to promote a cannabis culture of women who share in our belief of 'my body is a temple.'"
THE "ABOUT" SECTION of Treat Yourself's website almost catches you off guard with its innovative, female-focused approach to cannabis. Cindy Pinzon and Leone Posod began Treat Yourself in 2015 to revolutionize a healing and medicinal plant that's often portrayed as destructive.
It continues, "We create nutrient-packed products with only the finest quality ingredients. When designing our products, our goal is to cultivate health and happiness while creating an enjoyable experience for our patients."
The duo creates organic, gluten-free, vegan, refined-sugar-free cannabidiol (CBD) products with relatively low amounts of THC. CBD is a cannabis compound known for its medical benefits without giving users the psychological "stoned" feeling that tetrahydrocannabinol (THC) does.
This groundbreaking concept of cannabis products made with higher amounts of CBD than THC caused nearly every dispensary to initially reject the integrative-healing products the girls produced. In the beginning, the girls faced scoffs of, "your packaging is too girly," or, "you need high THC in your products to be successful." Regardless, they continued to create new and innovative products that would introduce the health benefits of cannabis in a way that's also good for the body.
"Dispensary owners believed that their patients just wanted high amounts of THC, which our products never had," Cindy recalls. "We got the door slammed in our face all the time."
Clearly, the two entrepreneurs were ahead of their time. Since the inception of Treat Yourself, the cannabis industry has dramatically shifted into a CBD-only product world -- and Cindy and Leone have been featured as some of the most innovative people in the industry.
Today, the girls remain steadfast in their mission to cultivate an industry that empowers women and is known for helping people to take their health into their own hands. The name Treat Yourself bridges the gap between doing something good for yourself and doing what feels good.
The "about" section perfectly concludes with,"We hope to inspire women to indulge in a little self-love, every day."
They do this in the kitchen of their shared home in Orange County, California, where they are the chefs, the packagers, the delivery team and the sales and marketing team.
Long before they became trailblazers in the cannabis industry, Cindy and Leone met on a high school volleyball team in San Pedro, California. They were 13 years old. They did almost everything as a pair -- from volleyball and volunteering to going on family vacations together and dragon-boat racing.
"Cindy and I were pretty much friends immediately," Leone says of the beginning of their relationship.
While the girls wasted no time becoming best friends, they were very different. Leone was raised to be "very outdoorsy," often camping and spending time in nature. Cindy reflects on how Leone has always been the one to push through challenges with grace and encouragement.
"For me, Leone has always been the one who moves forward and I'm the one constantly doubting -- since high school." She chuckles. "She's always the one saying, 'you got this.'"
As teenagers, both girls learned about marijuana as a "gateway drug" through numerous antidrug campaigns at school. Leone, a proclaimed "goody two-shoes," felt a deep conflict between what she was learning at school and going home, where cannabis use was a regular practice for some of her family members. To cope with her personal and educational discrepancies, she chose to stick to the mindset that cannabis was dangerous.
When Leone became a police dispatcher in San Diego, California, cannabis remained a touchy subject. After a while, what she was being taught began to conflict with her personal values -- again.
About the same time as she began to feel the disconnect, Cindy began using cannabis more regularly. Leone remembers visiting her at University of California Los Angeles (UCLA), where Cindy was studying psychology, and not seeing any reason to be worried. She seemed to be doing well in school and living a good life, despite her use of marijuana.
"We weren't allowed to associate with anyone who partook in anything illegal, even cannabis," Leone remembers. "I hated that I had to keep this person who I love and respect so much hidden from my coworkers. As time went on, a light started to be shone as far as what is right and what is wrong and this was a huge eye-opener for me."
The final switch flipped for Leone one day at work when a woman she had trained to become a police dispatcher announced they only had "20 years left" until retirement. This is when she started to "mentally pack her bags."
To Leone, it only catalyzed her finding something more fulfilling. "There's no way i can thrive in life doing this. This is not the track I'm going to stay on," she thought.
So she started over in a liberated field void of authoritative pressures: Yoga. At the same time as Leone earned her yoga-teacher certification, Cindy took a step back from her acting career in the Los Angeles area and pursued her passion for holistic wellness by becoming a certified health coach.
With a shared passion for health, the friends began to brainstorm businesses they could start together. Leone remembers the first conceptualization of Treat Yourself as a half-joking suggestion from Cindy. Today, the girls joke that they are a health and wellness brand who just happened to start in the cannabis space.
"Somewhere along our conversation about a health and wellness company, Cindy introduced the idea of making healthy cannabis edibles!" Leone laughs. "Yeah… she really had to sell me on it. Even once I said yes, looking back I was honestly still resistant. I hadn't even tried cannabis yet."
But once the retired police dispatcher tried it, she completely opened herself up to the idea. Form there, the two took off to merge their passions for taking care of the mind and body through cannabis.
A more natural approach to edibles with good ingredients was catalyzed by the selection that existed in dispensaries at the time. Cindy recalls with exasperation how all cannabis products were "just so unhealthy." She describes edibles packed with sugar like boxed cereal with marshmallows. At the same time, cannabis was starting to be promoted as helpful for cancer patients, which really put Cindy over the edge.
"I just felt so strongly that there's no way cancer patients can eat these horribly artificial, unnatural things. That was the moment I was like -- we have to do something about this!"
So they did, and it's been an adventure ever since. With excitement, the girls share that they recently hosted their first pop-up bake sale for organic hemp CBD products. Ultimately, they hope to get into bakeries and coffee shops.
They playfully joke about the positive feedback they got talking to people about edibles that are actually good for you and it's evident that the human engagement and opportunity to engage directly with consumers fulfills them. I get the sense that helping people take care of themselves is the piece that makes it all worth it for Cindy and Leone. This is what makes it more than a business to these two friends turned entrepreneurs.
The girls see their purpose with Treat Yourself as an educational and empowering role -- teaching women to indulge in self love and reclaim their own ability to feel good. Today, the girls find inspiration at home and all over the world about the way they're changing the industry for the better. Whether it's a mother who began consuming their products and regained the ability to play with her three-year old child or a woman from India who sends them an Instagram message celebrating their empowering brand from across the ocean, it reminds Cindy and Leone how lucky they are and that they must continue down this road.
"Our customers and fans on social media remind us to count our blessings," Cindy shares with notes of gratitude and appreciation in her voice. "It's encouraging to know that what we want to stand for is actually being portrayed."
Being a business owner can feel overwhelming when you just want to help people -- and this is where Cindy often finds herself. Once a week (at least), she takes time to recenter and reflect on why they're doing this and who they're helping.
"I don't want to just sell something," she says with unshakeable sincerity. "For me, this is a very emotional and spiritual thing."
Cindy's use of cannabis truly did become a spiritual practice. She respects the plant and uses it to process her emotions, listen to her inner voice and discover more about herself and the sources of her feelings.
Eventually, she felt discontentment in keeping this a secret. "I wasn't being my most authentic self," she recalls of that time in her life.
Her self liberation came in the form of openly acknowledging her affinity for cannabis, while Leone's came when she realized her long-established respect of authority was hindering her ability to live a fulfilled life centered around her personal values and left after 10 years as a police dispatcher to pursue Treat Yourself.
Perhaps the most beautiful part is that each has watched the other's evolutions to get exactly where they are now. As the girls continue on their untraditional journey to change the narrative on an outdated way of thinking about cannabis, they have each other's backs every step of the way.
"It's been a beautiful journey to see how far each other's come and laugh about where we come from," Cindy says with what can only be described as genuine joy.
The two share a history looking back and a vision looking forward. They're out to be more than just the premier health and wellness brand. They consider themselves women empowering other women to heal themselves and doing their part to heal the planet. Their deep-rooted friendship is just the vegan icing on top of the gluten-free edible.